Le 8 février, le long de la piste entre Imlili et Tachektente qui fait une quarantaine de km, il y avait un secteur à une dizaine de km au NNE de la sebkha où plusieurs oiseaux adultes étaient accompagnés de jeunes (notamment Courvites isabelles et Alouettes bilophes). Un Pluvier guignard Eudromias morinellus se trouvait parmi les Courvites (A. Qninba).
Il s'agit de la 5ème observation de l'espèce dans le Sahara Atlantique Marocain. Les quatre précédentes viennent l'une de l'Oued Sayed au sud-ouest de Goulimine le 29 novembre 2000, les trois suivantes de l'arrière-pays de Dakhla, comme l'observation du 8 février : un oiseau près de Mijk le 29 novembre 2009, un oiseau à 201 km avant Aousserd le 21 janvier 2012 et un à Gleib Jédiane le 15 mars 2012 (BERGIER et al. 2017).
Le Pluvier guignard est un hivernant rare et irrégulier aux îles Canaries (GARCIA-DEL-REY 2015) et il n'y a que deux mentions en Mauritanie (ISENMANN et al. 2010).
L'arrière-pays au sud-est de Dakhla serait-elle une zone d'hivernage diffus du Pluvier guignard ?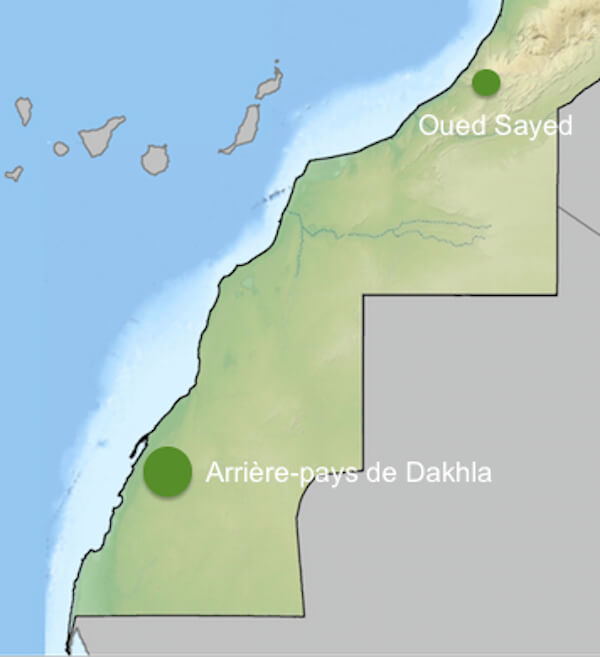 ---
Références
Bergier, P., Thévenot, M. & Qninba, A. 2017. Oiseaux du Sahara Atlantique Marocain. SEOF, Paris, 359 pp.
Garcia-del-Rey, E. 2015. Birds of the Canary Islands. Sociedad Ornithologica Canaria, Barcelona, Spain, 924 pp.
Isenmann, P., Benmergui, M., Browne, P., Ba, A.D., Diagana, C.H., Diawara, Y. & Ould Sidaty, Z.E.A. 2010. Oiseaux de Mauritanie. Birds of Mauritania. SEOF, Paris, 408 pp.