La Phaéton à bec rouge Phaethon aethereus est un visiteur accidentel au Maroc en provenance des mers tropicales et subtropicales ; les colonies les plus proches du territoire marocain se trouvent sur les îles du Cap Vert (Bergier et al. 2017, del Hoyo 2020).
En Mauritanie, des oiseaux atteignent régulièrement la latitude du Banc d'Arguin (Isenmann et al. 2010). Il y a quelques dizaines de mentions également sur les Canaries où l'oiseau se reproduit occasionnellement (Garcia-del-Rey 2015).
Trois mentions sont connues du Maroc (Bergier et al. 2022 à paraître), toutes dans le secteur de l'Oued Ad Deheb côtier :
– un en mer sur la Côte des Phoques le 2 mars 2013,
– un à la Pointe de la Sarga le 19 mars 2015,
-un adulte au large de Dakhla le 2 mai 2016.
Une observation par 21°40'N le 25 juillet 1978 peut aussi concerner les eaux de l'Oued Ad Deheb.
Un Phaéton au large du Cap Spartel, le 13 avril 1965, qui était probablement un P. aethereus.
Mme Sabine ZÈGRES a réalisé le 13 mai 2021 une très belle observation d'un oiseau bien identifié comme étant un Phaéton à bec rouge (voir illustration) au niveau d'une plage à environ 8-10 km au sud de Sidi Wassay sur la rive gauche de l'Oued Massa.
L'oiseau se dirigeait vers le nord et a semblé, un moment, vouloir se poser près d'un petit groupe de goélands-cormorans avant de continuer sa route, perturbé par la présence humaine.
Observation très originale car, mise à part celle du Cap Spartel (un oiseau non déterminé jusqu'au niveau spécifique), c'est la première mention bien documentée du Phaéton à bec rouge bien au nord du Sahara Atlantique marocain et en particulier de la région de l'Oued Ad Deheb où les observations antérieures avaient eu lieu.
—————–
Bergier, P. ; Thévenot, M. & Qninba, A. 2017. Oiseaux du Sahara Atlantique Marocain. 359 pp.
Bergier, P. ; Thévenot, M. ; Qninba, A. & Houllier J.R. 2022 (à paraître). Oiseaux du Maroc. SEOF, Paris
del Hoyo, J. (ed.). 2020.All the Birds of the World. Lynx Edicions, Barcelona.
Garcia-del-Rey, E. 2015. Birds of the Canary Islands. Sociedad Ornithologica Canaria. Bercelona, Spain.
Isenmann, P.; Benmergui, M.; Browne, P.; Ba, A.D.; Diagana, C.H.; Diawara, Y. & Sidaty, Z.E.A. 2010. Oiseaux de Mauritanie/Birds of Mauritania. SEOF, Paris.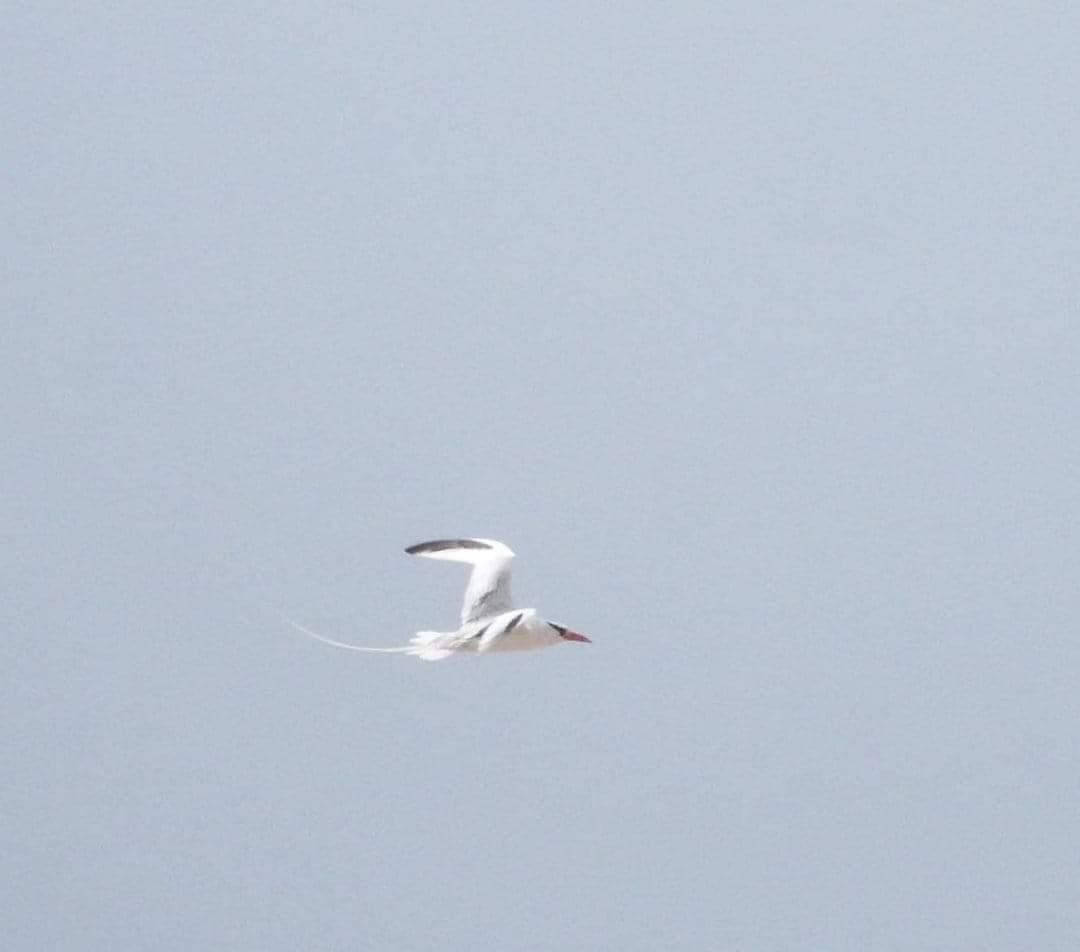 Phaéton à bec rouge photographié par S. Zègres le 31 mai 2021 près de Massa.