Les estivants nicheurs sont arrivés à Dar Bouazza : Blongios nain (au moins 3 !), Crabier chevelu, Oedicnème criard, Glaréole à collier, Tourterelle des bois, Pie-grièche à tête rousse, Rossignol philomèle,…
Egalement beaucoup de migrateurs de passage : Sarcelle d'été, Héron pourpré, Marouette ponctuée, Guêpier d'Europe, Hirondelle de rivage, Hirondelle rustique, …
La liste des espèces vues en 2h d'observation le 7 avril est disponible sur https://ebird.org/view/checklist/S44321493 (Benoit Maire)
HELP : Soutenez la protection de la Daya de Dar Bouazza. 'La Daya de Dar Bouazza est en cours d'immatriculation au profit de particuliers à la Conservation foncière de Nouaceur. Ce plan d'eau et ses sources appartiennent au domaine public hydraulique : la daya rentre dans le cadre de la Loi sur l'eau qui dit que : « L'eau est un bien public et ne peut faire l'objet d'appropriation privée ». Alors que des experts internationaux (IPBES) alertent le monde sur l'artificialisation des terres, la disparition des zones humides, et sur l'extinction en masse d'espèces vivantes, nous, associations et citoyens responsables de Dar Bouazza et d'ailleurs, ne pouvons pas comprendre ni accepter qu'on puisse ainsi sacrifier cette zone humide d'une importance considérable pour l'intérêt particulier de quelques promoteurs immobiliers. Nous demandons donc aux pouvoirs publics de faire respecter la Loi sur l'eau et d'interdire toute appropriation et exploitation privée de la Daya de Dar Bouazza'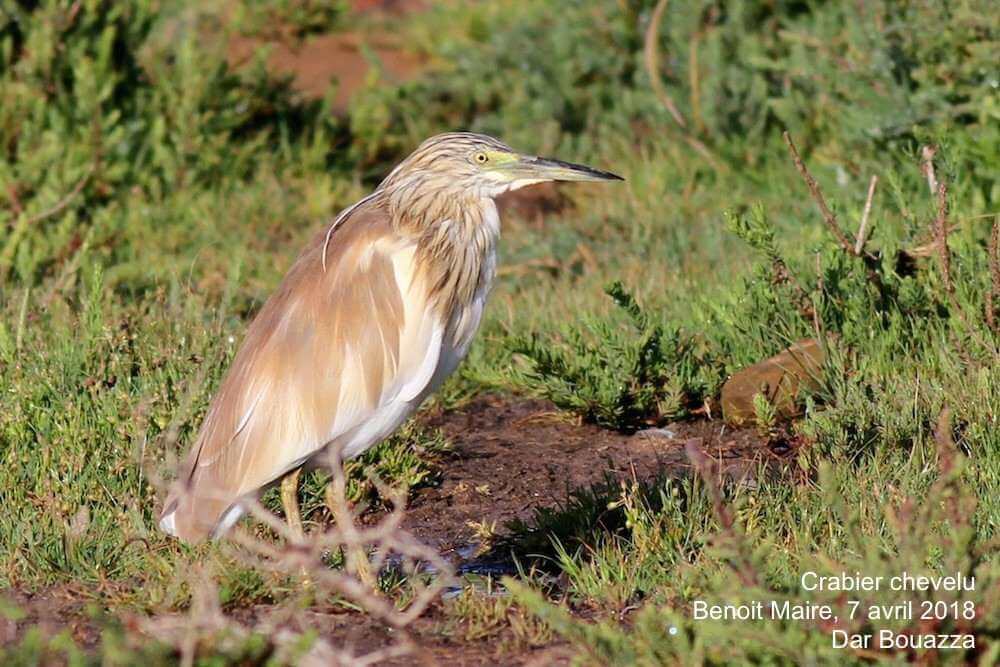 ---
The migrant breeders have arrived at Dar Bouazza : Common Little Bittern (at least 3!), Squacco Heron, Eurasian Thick-knee, Collared Pratincole, European Turtle-dove, Woodchat Shrike, Common Nightingale…
There are also a lot of migrants, including Garganey, Purple Heron, Spotted Crake, European Bee-eater, Collared Sand Martin, Barn Swallow….
The list of records (7 April, 2 hours) is available at https://ebird.org/view/checklist/S44321493 (Benoit Maire)
HELP: Support the protection of Dar Bouazza. 'The Daya (wetland) of Dar Bouazza is currently being registered for the benefit of individuals at the Nouaceur Land Conservation. This wetland and its springs belong to the public hydraulic domain: the daya falls within the framework of the Water Act which states that « Water is a public good and cannot be the object of private appropriation ». While international experts (IPBES) are warning the world about the artificialization of land, the disappearance of wetlands, and the mass extinction of living species, we, responsible associations and citizens of Dar Bouazza and elsewhere, cannot understand nor accept that we can sacrifice this wetland of considerable importance for the particular interest of some real estate developers. We therefore call on the public authorities to enforce the Water Law and to prohibit any appropriation and private exploitation of the Daya of Dar Bouazza'.