Découverte d'une colonie reproductrice au parc de loisirs de Sindibad à Casablanca (Pierre Beaugé, Facebook)
Jusqu'à présent, la reproduction avait été prouvée ou suspectée en quelques autres régions du Maroc :
dans le Tangérois, il semble avoir été un nicheur commun à la fin du 19ème siècle (Reid 1885, Vaucher & Vaucher 1915). On l'a récemment trouvé reproducteur dans les marais de Smir (Amezian et al. 2012)
dans le Rharb, il a niché à Fouarat en 2013 (Maire et al. 2013)
dans les Zaërs, reproduction à Plage David en 2015
dans le Haouz, reproduction suspectée dans les marais de la palmeraie de Marrakech (Barreau & Bergier 2000-2001)
dans le Souss, reproduction à Massa en 1994 (Rousseau 1994)
dans la Saquiat Al Hamra, reproduction suspectée à la Charca de Layoune (inéd.)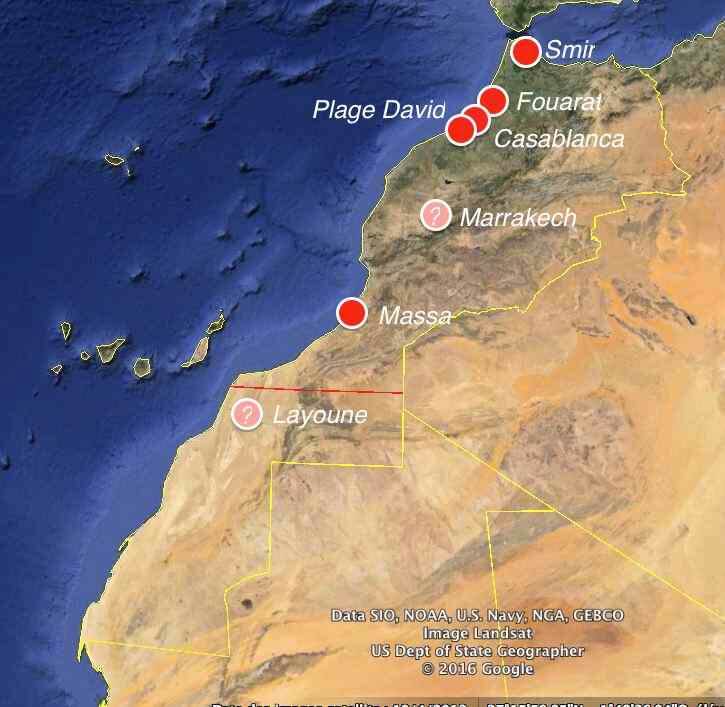 —————–
Bibliographie
Amezian, M. ; El Khamlichi, R. & Elbanak, A. 2012. Breeding of Glossy Ibis Plegadis falcinellus in the mixed heronry adjacent to Smir marshed, Northern Morocco. Alauda 80 : 33-38.
Barreau, D. & Bergier, P. 2000-2001. L'avifaune de la région de Marrakech (Haouz et Haut Atlas de Marrakech, Maroc). 1. Le cadre. Alauda 68: 301-310; 2. Les espèces: non passereaux. Alauda 69: 167-202; 3. Les espèces: passereaux. Alauda 69: 261-309.
Maire, B. ; Laïdi, K. & Mathurin, A. 2013. La valeur patrimoniale croissante de la zone humide de Fouarat (Kenitra) pour quelques espèces-clés de l'avifaune marocaine. Go-South Bulletin 10 : 198-202.
Reid, S.G.W. 1885. Winter Notes from Marocco. Ibis (5) 3: 241-255.
Rousseau, E. 1994. Nouveau cas de reproduction de l'Ibis falcinelle Plegadis falcinellus au Maroc. Alauda 62 : 313-314.
Vaucher, H. & Vaucher, A. 1915. Liste des Oiseaux observés au Maroc de 1884 à 1914. Rev. franç. Orn. 4: 94-96, 107-111, 134-137.